Nirma University

India
Mission: Nirma University emphasises the all-round development of its students. It aims at producing not only good professionals, but also good and worthy citizens of a great country, aiding in its… show more overall progress and development. It endeavours to treat every student as an individual, to recognise their potential and to ensure that they receive the best preparation and training for achieving their career ambitions and life goals.
Vision: Shaping a better future for mankind by developing effective and socially responsible individuals and organisations.
History: nirmauni.ac.in
Foundation: 2003
Leave a comment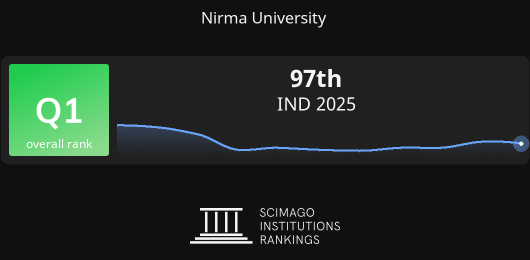 Journals used by the institution's researchers to publish his works in last year.
The size of the circle represents the value of the SJR of the publication.
Compare
| | Overall | Research Factor | Innovation Factor | Societal Factor |
| --- | --- | --- | --- | --- |
| World | | | | |
| Asiatic Region | | | | |
| India | | | | |
Only ranks, far more than raw data
Scimago Institutions Rankings has been developed by Scimago Lab. Data source: Scopus