Universidad de Medellin

Colombia
Mission: La Universidad de Medellín, fundamentada en su lema Ciencia y Libertad y comprometida con la excelencia académica, tiene como misión la formación integral, la generación de conocimiento y la promoción… show more de la cultura, en un ambiente crítico, de innovación e inclusión, para contribuir a la solución de problemas, mediante el desarrollo de la Docencia, la Investigación y la Extensión, en su entorno local, regional, nacional e internacional.
Vision: Para 2030 la Universidad de Medellín, inspirada en el pensamiento libre y el desarrollo humano, será reconocida como una de las mejores de latinoamérica, por su excelencia académica e investigativa,… show more la innovación y la responsabilidad social, en un marco global de pertinencia, inclusión y diversidad cultural
History: www.udem.edu.co
Foundation: 1950
Leave a comment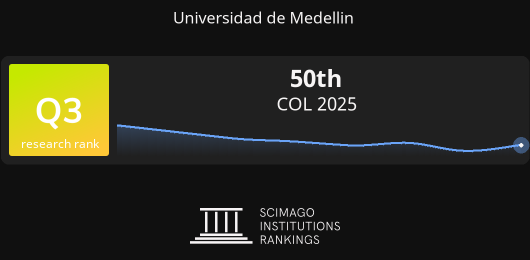 Journals used by the institution's researchers to publish his works in last year.
The size of the circle represents the value of the SJR of the publication.
Compare
| | Overall | Research Factor | Innovation Factor | Societal Factor |
| --- | --- | --- | --- | --- |
| World | | | | |
| Latin America | | | | |
| Colombia | | | | |
Only ranks, far more than raw data
Scimago Institutions Rankings has been developed by Scimago Lab. Data source: Scopus