Bangabandhu Sheikh Mujibur Rahman Agricultural University

Bangladesh
Mission: Contributing to society through the pursuit of agricultural education, research and innovation for sustainable development.
Vision: Fostering Quality teaching and research that develop highly skilled and educated people necessary to advancing the well-being of the nation in general and farming communities in particular.
History: bsmrau.edu.bd
Foundation: 1998
Leave a comment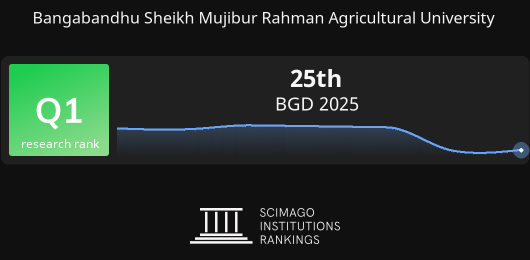 Journals used by the institution's researchers to publish his works in last year.
The size of the circle represents the value of the SJR of the publication.
Compare
| | Overall | Research Factor | Innovation Factor | Societal Factor |
| --- | --- | --- | --- | --- |
| World | | | | |
| Asiatic Region | | | | |
| Bangladesh | | | | |
Only ranks, far more than raw data
Scimago Institutions Rankings has been developed by Scimago Lab. Data source: Scopus