Universidade Federal do Estado do Rio de Janeiro

Brazil
Mission: Produzir e disseminar o conhecimento nos diversos campos do saber, contribuindo para o exercício pleno da cidadania, mediante formação humanista, crítica e reflexiva, preparando profissionais competentes e atualizados para o… show more mundo do trabalho e para a melhoria das condições de vida da sociedade.
Vision: Ser reconhecida como referência na produção e difusão de conhecimento científico, tecnológico, artístico e cultural, comprometida com as transformações da sociedade e com a transparência organizacional.
History: www.unirio.br
Foundation: 1969
Leave a comment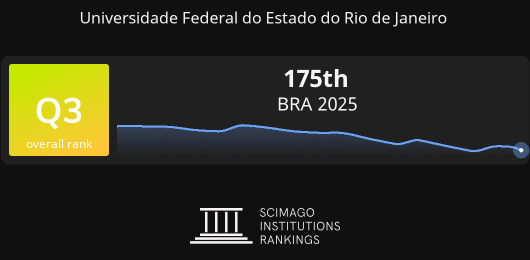 Journals used by the institution's researchers to publish his works in last year.
The size of the circle represents the value of the SJR of the publication.
Compare
| | Overall | Research Factor | Innovation Factor | Societal Factor |
| --- | --- | --- | --- | --- |
| World | | | | |
| Latin America | | | | |
| Brazil | | | | |
Only ranks, far more than raw data
Scimago Institutions Rankings has been developed by Scimago Lab. Data source: Scopus