Moscow State Pedagogical University

Russian Federation
Mission: The modern mission of our University ensures continuity and culture development of modern Russia by way of restoration of national pedagogical education based on a harmonious balance of traditions and… show more innovations, formation of Russian identity and professionalism of future teachers. MPGU mission is based on the following principles: Education is a means of the social development; Creation and adoption of a flexible and adaptable educational environment; Development of life-long pedagogical education; Public dialogue with scientific and pedagogical community and institutes; Openness to foreign educational systems and strategies.
Vision: MPGU's future will be to become a platform for the formation of a new model of pedagogical education that meets academic, moral and social needs of the modern society; MPGU… show more graduates should embody the ideas of the renovated national education. MPGU student of today is a teacher of the future.
History: en.mpgu.su
Foundation: 1872
Leave a comment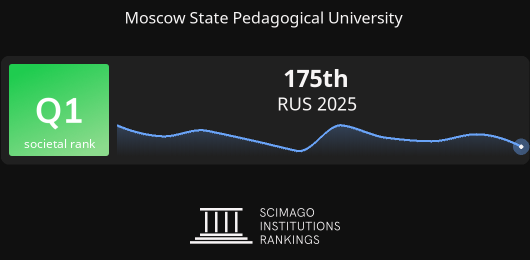 Journals used by the institution's researchers to publish his works in last year.
The size of the circle represents the value of the SJR of the publication.
Compare
| | Overall | Research Factor | Innovation Factor | Societal Factor |
| --- | --- | --- | --- | --- |
| World | | | | |
| Eastern Europe | | | | |
| Russian Federation | | | | |
Only ranks, far more than raw data
Scimago Institutions Rankings has been developed by Scimago Lab. Data source: Scopus