Walailak University

Thailand
Mission: Walailak University aims to discover, seek, maintain and disseminate knowlege and acedemic excellence for the progress of society. At the heart of its obligation is to develop individuals who are… show more both professionally-proficient and morally strong. The University's Four Commitments:To lead high level training of students based on world standards, consistent with socio-economic develpment of the South of Thailand and Thailand as a whole; To conduct studies, research in order to develop new knowledge that can be of benefit to national productivity, and can help enhance international competitiveness of Thailand; To provide and share expertise and technical services to organizations, both private and government sectors, including research and training and technological transfer in areas that can help develop the region and country; To act as a center for the conservation and restoration of art and culture.
Vision: To be an institution of good governance, a source of knowledge for critical problems facing the nation, to unfailingly address community needs, and to strive for international recognition for excellence.
History: www.wu.ac.th
Foundation: 1992
Leave a comment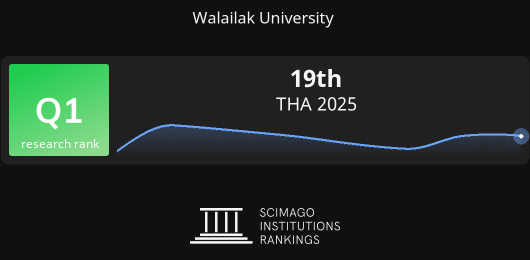 Journals used by the institution's researchers to publish his works in last year.
The size of the circle represents the value of the SJR of the publication.
Compare
| | Overall | Research Factor | Innovation Factor | Societal Factor |
| --- | --- | --- | --- | --- |
| World | | | | |
| Asiatic Region | | | | |
| Thailand | | | | |
Only ranks, far more than raw data
Scimago Institutions Rankings has been developed by Scimago Lab. Data source: Scopus